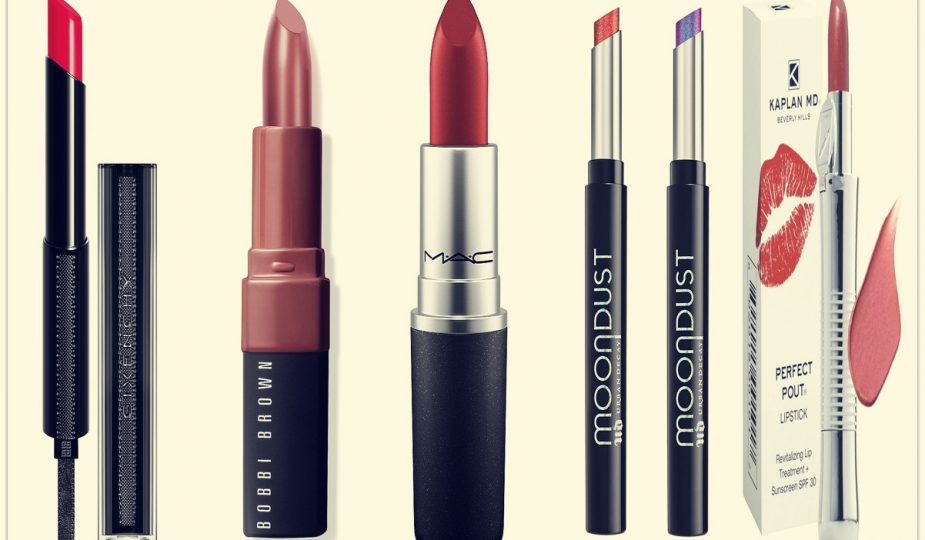 The 12 Most Versatile Lipsticks From 2021
Some of the links below are affiliate links, meaning, at no additional cost to you, I will earn a commission if you click through and make a purchase.
One of the most important elements of makeup is the lipstick as no makeup is completed without well-painted lips according to the occasion. Below we have prepared a list of The 12 most versatile lipsticks from 2021.
1. It Cosmetics Vitality Lip Flush Lipstick Stain Duo

This magnificent Vitality lipstick is 4 in 1 since it has everything that brings a lipstick, anti-aging conditioner lip balm, moisturizing gloss, and lip blemish. If you want a natural, attractive, and long-lasting color, this is the perfect choice for you. You can buy it in sheer pinks or sheer berries.
2.Givenchy Rouge Interdit Temptation Black Magic Lipstick
One of the most versatile colors that exist is black, and this wonderful Givenchy Black Magic lipstick provides a unique and unparalleled tone. The formula is designed to create a unique and sensual color by reacting with your pH. It can also be used as a moisturizing layer.
3.Carmindy Beauty Look Over Here Lip Crayon Trio
If you're looking for a lipstick that's ideal for everyday use as well as more formal occasions, this lipstick trio is perfect for you. These lipsticks are creamy, moisturizing, and very comfortable to use all day long. The trio includes a peach color lipstick, a fire coral, and a poppy splash.
4.Urban Decay Moondust Lip Eclipse Duo
This is an almost transparent light-colored lipstick with a radiant and sexy touch. It is made with a creamy formula based on cocoa butter, which guarantees that it will always keep your lips well hydrated. Besides, you can now take two lipstick bars at a very affordable price.
5. Laura Geller Baked Iconic Lipstick Trio
Laura Geller's beauty products are recognized worldwide for their great quality and excellent prices, and this lipstick is a perfect example of that. They are very durable lipsticks with very vibrant colors because they are baked by hand, which makes them more creamy and moisturizing. In this trio, you get an East Side Rouge, a Brooklyn Beige, and a Central Park Spice lipstick.
6.Tatcha Kyoto Red, Cherry Blossom, & Plum Silk Lipstick Trio
Without a doubt, this is one of the most versatile and elegant lipsticks on the market. Inspired by the changes in Japanese flowers, these lipsticks have sophisticated and versatile tones. They are made with 100% natural products. And this trio includes three colors that you will always look great in Kyoto Red, Plum Blossom, and Cherry Blossom.
7.Kaplan Md Perfect Pout Lipstick

KAPLAN moisturizing lipstick displays luxuriously rich and soft lip color. When applied, it moisturizes your lips and provides SPF 30 sun protection. It is made with Dr. Kaplan's complex of 22 extracts, which help nourish the lips, combined with a maxi-peptide peptide and hyaluronic spheres, which will provide a more beautiful and soft lip appearance. It is recommended to apply at least half an hour before going out, and you can apply it every 3 or 2 hours, thus giving you more sun protection. Includes a 0.11 oz. Perfect Pout lipstick.
8. Mac Cosmetics Cream Lipstick
This lipstick has a very creamy formula with a smooth glide, buildable coverage from medium to full, and intense color retribution. To use, you must prepare your lips with Prep + Prime Lip Primer (which is not included) before applying color to decrease lipstick smudging, which will improve the appearance of lipstick color. Includes 0.1 oz. cream lipstick.
9.Bobbi Brown Crushed Lipstick, 0.12-oz
It's a combination of a lipstick stick with the feel of a balm, making it Bobbi Brown's most portable lipstick product. It's a formula made with beeswax, vitamins C and E, and loaded with crushed pigments, so you can just glide on and on, giving you a satiny matte finish that moisturizes your lips and leaves them kissably soft.
Very easy to use, just slide it on, and it's ready, offering a blurry appearance, and if you want to have more intensity in your color, you should slide it on two or three times. It includes a 0.12 oz. crushed lip color, with a variety of colors such as blackberry, Cali rose, grenadine, among others.
10. Laura Geller Love Me Dew Lip Crayon Trio
I Love Me Dew lipstick features a formula that moisturizes the lips, along with a luxurious balm-like texture. With its glossy color, this lipstick never needs to be sharpened, ideal for touching up when you're on the go. It's very easy to use since you don't have to use a lip liner, you just apply it to your lips.
11.Carmindy Beauty Universal Love Hydrating Lipstick
It features a pink lip tone that highlights the appearance of each woman's natural lip color, as well as moisturizes them, leaving them with a great feeling of comfort, and with a soft and subtle satin finish. If you need to touch up your lips, you can simply rub the pencil against your index finger and then run it over your lips. Includes one 0.13 oz. lipstick.
12.Givenchy Rouge Interdit Vinyl Lipstick
This great lipstick offers several features, both extreme shine and striking tones, providing a modern style, unique, avant-garde, urban, and elegant, you can impose your own style without any inconvenience. The formula is made with black rose oil, which provides moisture and comfort to the lips, also a silicone resin that generates a thin film, flexible and bright on the lips, making imperfections disappear and better-reflecting light.