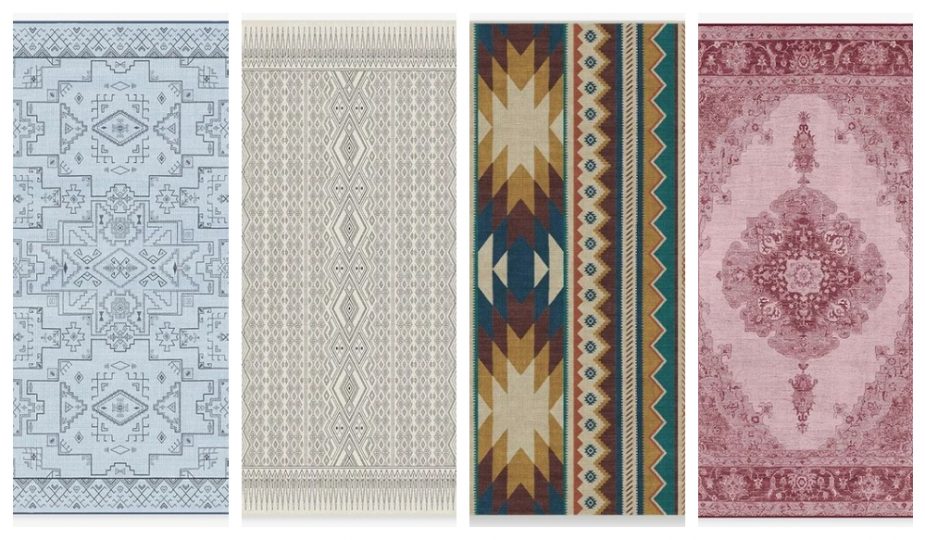 12 Creative Bohemian Rugs to Add a Touch of Personality to Your Space
Some of the links below are affiliate links, meaning, at no additional cost to you, I will earn a commission if you click through and make a purchase.
If you like a touch of modernity and lighten up your space, then the Boteh Blue Rug is your best option. The colors are a beautiful bright mix of teal and seal blue and dashes of green. The soft feathery edges match its floral details and, along with its high quality, make this one excellent choice for any space.
3. Leelu Blue Overdye Rug
If you are one for intricate design, you can add a touch of sophistry with the Leelu Blue Overdye Rug. The geometric patterns are eye-catching and follow the tradition of Caucasian rugs, which are usually highly stylized. It is also an excellent way to add some old school vibe in your modern home with the grey and blue bicolor scheme.
The Arizona Black Rug is all about bold presence and manages to convey both timelessness and sophistication at the same time. The American Southwest heritage inspires the stripes and diamond pattern. The smoke black and bone white tones contrast and accent the tribal patterns giving the rug an air of energy.
6. Corellian Ikat Black Rug
If you are a Star Wars fan, then the Corellian Ikat Black Rug is the best gift you could get yourself. Its print features all the favorite starships from the franchise, including the iconic Millennium Falcon. The silver, white, and grey rendering mimics the Ikat weaving technique, which further adds to the space atmosphere.